Welcome to the home of the HP-12C Financial Emulator
---



---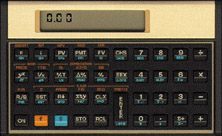 The HP-12C calculator is a programmable financial calculator utilizing reverse polish notation with a 4 register stack, 99 program lines available for programs, financial registers, 20 data storage registers, and continous memory. Functions include percentage, statistics, linear estimation, calendar, financial, depreciation, bond price and yield, discounted cash flow analysis. Calculator programs feature conditional branching and looping. Also, the calculator has the ability to store multiple programs. Applications for this calculator include the fields of real estate and lending, mortgage brokering, stocks and bond trading, leasing, and banking.
Copyright © 1995, Telemark software, Inc. All Rights Reserved.
Alternate download links & additional info:
Latest News:
V2.0 in the planning stages. Based on the .Net Framework...
Improved user interface...
ActiveX Control to facilitate integration into your software package...
More to come, stay tuned...